Tim Borski is a resident of the Florida Keys and spends his time painting, writing, designing new and unique fly patterns and, of course, fishing. Locally his work can be found at the Redbone Gallery. His work has claimed worldwide demand.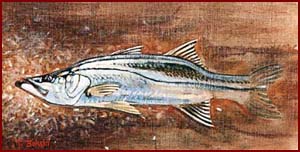 "GOLD SNOOK" Original oil Image size 26"x 13" - $995.00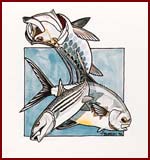 "LITTLE PALM ISLAND GRAND SLAM"
Original watercolor - Image size 12"x 14" - $995.00 Limited edition Signed/numbered 200 - $100.00
Redbone Journal | Fishing Tournaments | Art Gallery | Links | Make a Donation | Contact Us
Home | Copyright © 2006-2013, Redbone Inc. All rights reserved. | Website by The Web Pro. | Site Map