If you're looking for the very best saltwater rod series on the market, then Redbone is the series for you. These extremely rich-looking rods were designed by charter captains, so you know they are durable and dependable. Constructed of IM7 Graphite, their lightness and strength is a major advantage for saltwater fishing.
"Named for the one of the world's premier flats-fishing tournaments, Hurricane's new Redbone Rods have to be good. The famous Redbone Celebrity Tournament Series combines camaraderie among fishermen with top-notch angling while raising money for cystic fibrosis research.
Constructed of IM7 graphite, Redbone one-piece spinning and casting models feature blank-through-handle design, hook keepers, genuine cork grips, Fuji guides and graphite reel seats. Anglers can choose from a selection of eleven spinning rods in 6 1/2-, 7- and 7 1/2-foot lengths with various line ratings from 4 to 30 pounds. Nine different casting models offer lengths of 6, 6½ and 7 feet; line ratings vary from 8 to 40 pounds.
Redbone spinning and casting rods retail for $99.95. The Redbone Rod Series also includes offshore models and Hurricane will donate a percentage of the sale of these rods toward efforts to fight cystic fibrosis."
All Hurricane Redbone rods come with a Limited Lifetime Warranty. To claim a warranty on your Redbone Rod, please contact 1-800-622-9662 or visit REDBONEŽ PERFORMANCE SALT TACKLE.

For more info, visit the REDBONE PERFORMANCE website!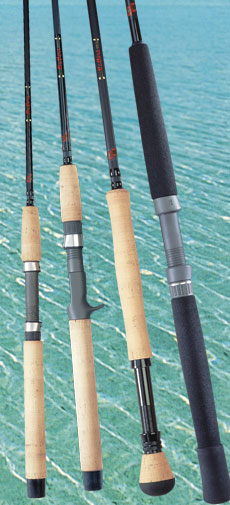 Order your Hurricane Redbone Rod:

Spinning and Casting Rods
Performance-Tuned Actions
IM7 Blank-Through-Handle Construction
Fuji Graphite Reel Seat
Fuji New Concept Guides
Genuine Cork Grip and Hook Keeper
Spinning Rods

Model No.
Length
Pieces
Action
Recommended
Line in lb. Test
Lure Wt. (oz)
RDB-701MLS
7'
1
ML
6-12
1/4-1/2
Order
RDB-701MS
7'
1
M
8-17
3/8-3/4
Order
RDB-701MHS
7'
1
MH
10-20
3/8-1
Order
RDB-701HS
7'
1
H
15-30
1-2
Order
RDB-701XHS
7'
1
XH
15-40
1-3
Order
RDB-761MS
7'6"
1
M
8-17
3/8-3/4
Order
RDB-761MHS
7'6"
1
MH
10-20
3/8-1
Order
RDB-761HS
7'6"
1
H
15-30
1/2
Order
RDB-761MLS
7'6"
1
ML
8-15
3/8-3/4
Order
RDB-762MS
7'6"
2
M
8-17
3/8-3/4
Order
Casting Rods
Model No.
Length
Pieces
Action
Recommended
Line in lb. Test
Lure Wt. (oz)
RDB-701MOS
7'
1
M
10-20
3/8-1
Order
RDB-701MHOS
7'
1
MH
10-20
3/8-1
Order
RDB-701HOS
7'
1
H
17-40
1-3
Order




Fly Rods






The 4-piece design of the Redbone Performance Fly rods travel well without sacrificing performance. They feature a tapered IM7 high modulus graphite blank and come with a plastic rod case and protective rod sleeve.






Model No.
Length
Pieces
Weight
Rod Style
RDB-FR908-4
9'
4
8 WT
Fly
Order

RDB-FR909-4
9'
4
9 WT
Fly
Order
Redbone Journal | Fishing Tournaments | Art Gallery | Links | Make a Donation | Contact Us
Home | Copyright © 2006-2013, Redbone Inc. All rights reserved. | Website by The Web Pro. | Site Map