Rogers Fowler

Originally a native of Memphis, Texas, Rogers' love of flyfishing began with summer vacations spent pursuing trout in there rivers and streams of the Gunnison, Colorado area.

His passion for fly-fishing and awareness of the unique beauty of fish provide the energy to create sculptures that truly capture the reflected brilliance and saturated colors of these special gamefish. Rogers' subjects include rainbow, brook, brown and Snake River cutthroat trout, Atlantic and Pacific salmon, speckled trout, redfish, tarpon, permit, bonefish, dorado and rooster fish.

Utilizing a unique process that involves stainless steel castings of the subjects and an enameling-like process for color saturation, Rogers' pieces are some of the most exceptional found anywhere. He hand creates each sculpture, personally taking it from the wax model, to stainless steel rough-cast, all the way through to final polishing.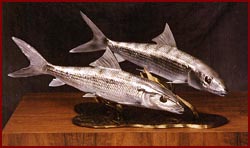 "Pair of Bonefish"
$4,500
"Rainbow"
$2,800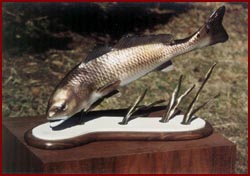 "Tailing Redfish" 25"
$3,600 - Available in polished metal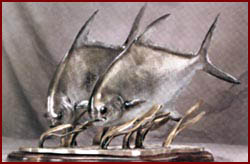 "Pair of Permit"
$4,000

"I have never seen a better bonefish or permit sculpture in stainless steel. But don't take my word for it. Let us ship one of Roger Fowler's masterpieces on approval. You won't want to send it back."

-- Capt. Gary Ellis Tournament Director Redbone Celebrity Tournament Series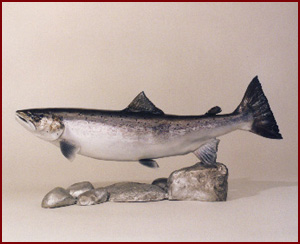 "Atlantic Salmon"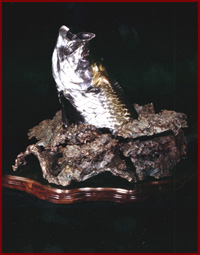 "Just Getting Started"
Approximately 30" x 30"
$7,000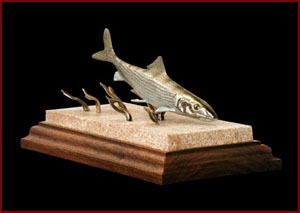 "Desktop Bone"
$950