2011 YELLOW CREEK Fly Fishing Classic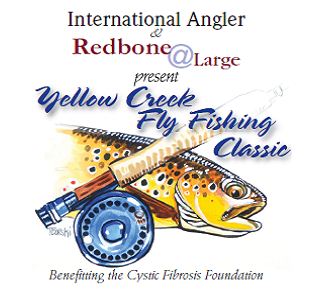 What: The Yellow Creek Fly Fishing Classic is a 2-person team tournament to be held on Yellow Creek in Indiana, PA. Anglers can purchase a team and enjoy fishing on the bountiful waters of Yellow Creek, which boasts some of the best fly-fishing east in Pennsylvania. This event features a wonderful banquet with live and silent auctions and two days of premiere blue-ribbon trout fishing. All meals included.
When/Where: This year the Yellow Creek fly Fishing Classic will take place at Yellow Creek Trout Club in Indiana, PA on Saturday, April 30 & Sunday, May 1, 2011. This year's event combines great fishing, food and fun in an excusive environment.
Who: YOU! Team and individual anglers can join the fun of guided fly fishing. We also are excited to have a celebrity angler on hand to enjoy these beautiful waters while providing some very helpful tips.
In addition to two (2) fishing days, guests can join you for dinner, the auctions and an awards ceremony.

Why: To ensure people living with cystic fibrosis live longer and more productive lives then ever before! When the CF Foundation was founded in 1955, children with CF were not expected to see their first day of elementary school. Today, more than 40 percent of the patient population is age 18 and older! This is amazing progress-but not good enough-as we continue to lose at least one precious life to cystic fibrosis everyday.
Please join us in our fight against cystic fibrosis, join our Yellow Creek Fly Fishing Classic today as a sponsor and together we can add tomorrows every day!


Click here for more information (PDF)


Click here to REGISTER for the event!




For more information: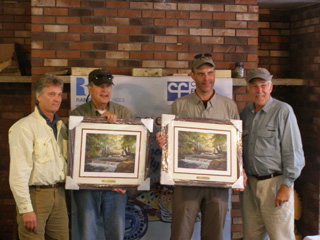 Celebrity John Randolph and Artist Luther Hall w/ 2010 First Place Team winners Scott and Jay Roy

Max Flessner
Developement Manager
Cystic Fibrosis Foundation, Western Pennsylvania Chapter
810 River Avenue, Pittsburgh, PA 15212
Phone: (412) 321-4422
Email: mflessner@cff.org

Stan Stein
Event Chairperson
Cystic Fibrosis Foundation - Western Pennsylvania Chapter
810 River Ave., Suite 100
Pittsburgh, PA 15212
Phone: (412) 263-6111
Email: sms@fgsmlaw.com



Schedule of Events

Saturday, April 30, 2011 Day 1
6:00-7:30 a.m. Registration & Breakfast
8:00 a.m. Morning Fishing Session
Noon-1:00 p.m. Lunch
1:00 p.m. Afternoon Fishing Session
5:00 p.m. Dinner
6:00 p.m. Live Auction and Program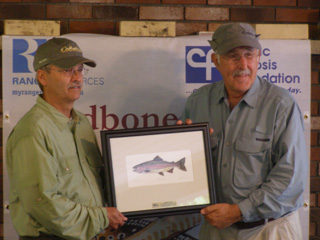 Sunday, May 1, 2011 Day 2
6:00-7:30 a.m. Breakfast
8:00 a.m. Morning Fishing Session
11:00 a.m. Lunch, Awards, & Check-out

$1,500 Two-Man Team | $1.102.40 is tax deductible
• Two man fishing team entered in the tournament
• Breakfast, Lunch and Dinner for two days
• Shirt and Fishing Bag
• Marty and Mary reception
• Casting Competition
• Recognition in Program book

$750 Individual Angler | $551.20 is tax deductible
• One person entered in the tournament
• Breakfast, Lunch and Dinner for two days
• Shirt and Fishing Bag
• Marty and Mary reception
• Casting Competition
• Recognition in Program book


Sponsorships
$200 Beat Sign Sponsor (20 available) | Full amount is tax deductible
• Custom made sign exhibiting your company name to
be displayed on select stream beat in tournament area.
• Corporate recognition in the event program
Full amount is tax deductible
$3,000 Official Tournament Shirt and Bag Sponsor
$2,502.40 is tax deductible
• 1 Team entry for the competition
• Quarter (¼) page acknowledgement in event program book
• Company logo embroidered on fishing shirt/bag and given
to each fisherman
• Company banner displayed
$3,000 Banquet Sponsor | $2,056.40 is tax deductible
• Quarter (¼) page acknowledgement in event program book
• Company banner displayed at the event
• Four (4) banquet tickets
• Quarter (¼) page ad in the Redbone Journal (2 issues)
$3,000 Awards Sponsor | $1,752.40 is tax deductible
• 1 Team entry for the competition
• Quarter (¼) page acknowledgement in event program book
• Company banner displayed at the event
• Four (4) banquet tickets
• Quarter (¼) page ad in the Redbone Journal (1 issue)
$5,000 Tournament Series Sponsor | $4,077.40 is tax deductible
• Front Cover Logo on brochure and event program book
• Company banner displayed prominently at the event
• Company name included in all media advertisement
• One (1) team entry
• Accommodations for two
• 5 banquet tickets