Ken Landon Family Lake Erie Fishing Classic
Cleveland, Ohio
2011 Tournament Results
2011 Ken Landon Family Lake Erie Fishing Classic
Raises $46,294 Net for Cystic Fibrosis Foundation - Northern Ohio Chapter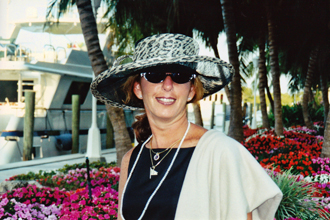 Susan Landon

Over 70 Anglers and 145 guests participated in yet another first-class fishing tournament at the Ken Landon Family / Redbone @ Large Lake Erie Fishing Classic, held at the Catawba Island Club this past June 16 & 17, 2011, to benefit the Northern Ohio Chapter of the CF Foundation.

This past year's event was in honor of Susan Landon, who had passed away earlier in the year of colon cancer at her Catawba home.

Susan dedicated her resources and energy to many charities. She founded the Lake Erie Redbone Tournament (along with her husband, Ken) for Cystic Fibrosis, co-founded "Who Knew, Think Blue" event for colon cancer with the American Cancer Society, and worked tirelessly & passion for the World Sailfish Championship Charity.

She was an avid angler, enjoyed fishing worldwide and would always be the first to grab a rod when a fish was on!  Susan was C.E.O. of Design Marketing and enjoyed many things in life.  Nothing compared to her love of family and friends, she put family above all else, always making sure they were protected, provided for, and happy.
The fitting tribute paid to Susan was part of the two-day fishing event which began on Thursday, June 16th with a festive "Sunset Celebration" at the Catawba Island Club. The "Sunset Celebration" (lead by local Port Clinton resident Kate Bauer) featured cocktails & dinner; a live and silent auction; and offered networking opportunities for guests to mingle and socialize in a casual, relaxed & fun atmosphere.
The Fishing Tournament began at 8:00AM on Friday, June 17th, with a continental breakfast at the Catawba Island Club marina. Anglers enjoyed an exciting day of fishing, followed by a cocktail reception, as they shared stories of their day on Lake Erie.
Other committee members instrumental in the success of this event included Susan's husband, Ken - who has chaired this event for many years, along with Debbie Benevento; Glenda Ward; Len Partin; Kate Bauer; Rick Rennell; and Susan Bianco.
The date of the event for 2012 will be June 21-22, 2012.

For more information, call 216.475.CURE (2873).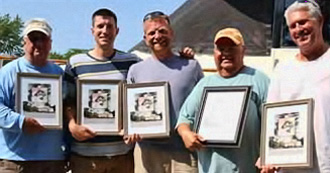 The men's trophy was won by the Mrs. B team of Captain Duke Benevento, Len Partin, Buzz Stenger, Joe Potkay and Troy Buckley.




Despite windy conditions early, the Boca Grande Classic put on by the Gasparilla Inn & Club was still a success. Capt. Mike Slattery of Pine Island and his crew, Partin and Benevento, won five categories. The most of any boat, dominating the competition.

The Lake Erie Classic is a Redbone Walleye tournament started 10 years ago by Susan and Ken Landon to help "catch the cure" for Cystic Fibrosis. Thursday June 16th was a gala sunset celebration, and to celebrate the life of Susan Landon who lost her battle with cancer in January. This tournament is part of the Redbone Tournament series to benefit the Cystic Fibrosis Foundation. Cystic Fibrosis is an incurable genetic disease that afflicts thousands of Americans. It causes CF patients to develop chronic life-threatening lung infections.

The 2011 Ken Landon Family Lake Erie Fishing Classic raised a total of $61,610.00 for the Cystic Fibrosis Foundation Northern Ohio Chapter.

Total fish caught: 144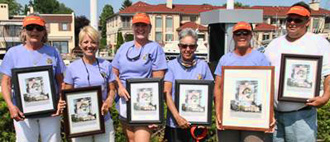 The women's division trophy was won by a first year entry from Florida,
the Wall-eye Wonder Women of Captain Tim Pratt,
Kate Burke, Tibby Bartram, Joan Vandergriff, Sharon Wampler and Donna Wilson.


10th Annual Lake Erie Classic: June 17, 2011-- Unofficial Results


Boat / Group Name

Angler Names

Tournament Total

Hartzell Propeller

Todd Bair
Rick Henson
Michael Mayhill
Tom Ransdell

149.75

Fearsome Foursome

Ray Pasquale
Buz Hoover
Tony Pastore
Bill Bauer

154.0

Marine Max

Michelle Ohm
Lee Meinke
Jonathon Meyer
Dell Mathern

143.5

Bob's Boys

Larry Ekey
Rick Rennell
Ken Landon
Ken Spero

130.0

Naughty

Pete Weimer
Chris Pastel
Ryan Hetrick
Greg Forrester

130.5

Fishtini

Debbie Benevento
Glenda Ward
Susan Bianco
Debbie Coppeler
Ginny Stenger
Christina Potkay

140.5

Mrs. B

Duke Benevento
Joe Potkay
Troy Buckley
Buzz Stenger
Len Partin

154.0
WINNER-Men

Jefferson Beach

Bud Koch
Jim Stefano
Name Unknown
Name Unknown

153.0

Goldie

Al Goldenbogen
Seth Brown
Ray Mong
John Ripich

129.5

South Shore

Eric Burgy
Gary Wirkner
Cory O'Dell
Chad Miller

143.0

Walleye Wonder Women

Kate Burke
Tibby Bartram
Joan Vandergriff
Sharon Wampler
Donna Wilson

145.5
WINNER-Women

USA Expositions

John Lancione
Brian Roggenburk
Adam Roggenburk
Don Sprenger

20.75

Largest - Buzz Hoover (28.0) - Men
Tibby Bartram (25.25) - Women

Thanks for
helping us
RAISE:

$61,610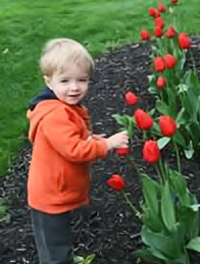 Special guests were also parents of a CF child less than 2 years old, Aidan McCabe, an adorable baby fighting every day.