2011 REDBONE @ LARGE
LA SIESTA SUNRISE/SUNSET TARPON TOURNAMENT AWARDS
ISLAMORADA, FL.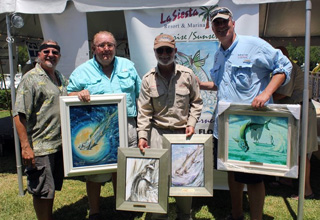 TOURNAMENT DATES: April 15 - 17, 2011

TARGET FISH: Tarpon
FORMAT: ALL RELEASE - ALL FISH MUST BE 48 INCHES IN OVERALL LENGTH TO QUALIFY AS A LEGAL RELEASE. THERE ARE THREE TACKLE DIVISIONS: BAIT, ARTIFICIAL, SPIN/PLUG, AND FLY TACKLE.
ANGLERS: 20
TOTAL TARPON CAUGHT: 20
GRAND CHAMPION ANGLER: GARY HALL, LEWISTON, NY
TROPHY: PASTA PANTALEO "MOON SHOT" GICLEE' ON CANVAS
GUIDE TO GRAND CHAMPION ANGLER: CAPT. JIM DALRYMPLE
TROPHY: SMALL PASTA PANTELEO "MOON SHOT" GICLEE' ON CANVAS
CELEBRITY GRAND CHAMPION ANGLER: FORMER ASTRONAUT BRUCE MELNICK,
INGLIS, FL.
TROPHY: PASTA PANTALEO "BATTLE ARMOR" GICLEE ON CANVAS
GUIDE TO CELEBRITY GRAND CHAMPION ANGLER: CAPT. MATT BELLINGER
TROPHY: SMALL PASTA PANTALEO "BATTLE ARMOR GICLEE ON CANVAS
LADY GRAND CHAMPION: BROOKE DENKERT, ISLAMORADA, FL
TROPHY: JEANINE BEAN TARPON FANTASY
GUIDE TO LADY GRAND CHAMPION: CAPT. DAVE DENKERT
TROPHY: STEPHEN WHITLOCK HANDCOLORED TARPON
TEAM GRAND CHAMPIONS: DR. ROBERT CULLEN, CORAL GABLES, FL
MICHAEL CULLEN
TROPHY: JOHN RICE "LEAPING TARPON" GICLEE
GUIDE TO TEAM GRAND CHAMPIONS: CAPT. KEN KNUDSEN
TROPHY: SMALL PASTA PANTALEO GICLEE
RUNNER-UP TEAM GRAND CHAMPION ANGLER:
TROPHY: GARY HALL & DAVID LUSK, WAYNE, MI
GUIDE TO RUNNER-UP TEAM GRAND CHAMPION ANGLER
TROPHY: CAPT. JIM DALRYMPLE
FIRST RUNNER UP ANGLER: DR. ROBERT CULLEN
TROPHY: PASTA PANTALEO "BATTLE ARMOR"
GUIDE TO FIRST RUNNER UP ANGLER: CAPT. KEN KNUDSON
TROPHY: PASTA PANTALEO GICLEE EXPRESSO