2011 MIKE SCHMIDT WINNER'S CIRCLE
(Benefiting the Cystic Fibrosis FoundatioN)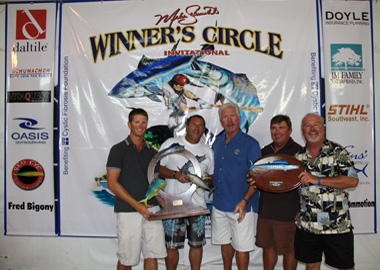 Mike Schmidt Winner's Circle Success – 2011

Philadelphia Phillies Hall of Famer Mike Schmidt hosted his twelfth annual fishing tournament to benefit the Cystic Fibrosis Foundation. Schmidt joined the fight against CF when Brett Weinstein, a classmate and friend of his children, lost his battle with the disease in 1999 while awaiting a double lung transplant.
Old Bahama Bay at West End welcomed 112 anglers at the Captain's Cocktail Party on May 11. Twenty eight boats competed in the dolphin, tuna, wahoo tournament in the waters off Grand Bahama Island, May 12 – 14.
David Baskett and his team aboard Peggy Sue, was the 2011 Grand Champion and recipient of the Brett Weinstein Trophy. Frank Devlin of West Palm Beach aboard Four Reel was 2nd; Jay Scarola of Jupiter aboard Sea Tox placed 3rd.
The Winner's Circle Gala Kick-off Party, sponsored by Schumacher Automotive, was held at Admiral's Cove in Jupiter on May 7. Other corporate sponsors of the tournament include Fred Bigony, Doyle Insurance Planning, JM Family Enterprises, Peel Graphics & Design, Bruce Quinn/Oasis Outsourcing, Red Eye Trolling Lures, Stihl Southeast and Vitaquest International. Booster Sponsors included Carmine's Gourmet & La Trattoria Restaurant, Haddon House Food Products, Morrison Brown Argiz & Farra, Paone Builders, Philadelphia Phillies and USB Financial Services, Inc.
George Bengston, Tim Derrico, Richard Ganter, Harold Kay, Gary Peel, Mike Samuels, Brian Weaver, Marie Cook and Debbie Weinstein served on Schmidt's Winner's Circle Executive Committee. The Winner's Circle has raised more than $1.6 million for CF research since its inception.
For more information about cystic fibrosis and upcoming CFF events visit
www.cff.org/Chapters/palmbeach
or contact the Palm Beach office at 561-683-9965.
Statistics for 2011 Mike Schmidt Winner's Circle Tournament

Grand Slam Awards
Total Wt Boat Name Boat Owner
Grand Champion 134.0 Peggy Sue David Baskett
Runner up 77.0 Four Reel Frank Devlin
Third Place 68.0 Sea Tox Jay Scarola
Species Awards
Total Wt Boat Name Boat Owner
Dolphin 40.0 Scooter Marge Krupa
Tuna 54.0 Clean Sweep Charles Venezia
Wahoo 46.0 Peggy Sue David Baskett
Billfish Release
Plum Crazy Chris Hughes Marlin
Plum Crazy Brad Belcher Blue Marlin
Princess Lily Mike Samuels Sailfish
Dal Tile Brian Ellis White Marlin
Stihl Leader Susan Noble Blue Marlin
Dal Tile Jeff Stone Blue Marlin