Redbone Gallery - Christi Mathews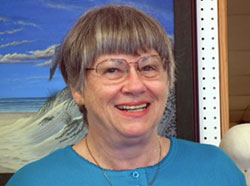 Christi Mathews
Christi Cranston Mathews was born in and named after Corpus Christi Texas. Christi grew up loving the outdoors, watersports and ART. After graduating from Roy Miller High School in Corpus Christi, Texas, she traveled throughout the U.S. as a United Flight Attendant. Christi has studied under six private art teachers and in 1976 graduated from Art Instruction Schools of Minneapolis, Minnesota.
After leaving the airlines Christi settled in Seattle, Washington where she was a free lance commercial and fine arts artist specializing in maritime art. While living in Seattle, Christi married Angus Mathews from Port Aransas, Texas. Christi , Angus and their son Andy , moved to Orlando Florida in 1981.
The unique Florida wildlife and environment immediately became the inspiration for her artwork. In 1984 Christi and family moved to Ft. Lauderdale and her artwork quickly became focused on South Florida, Everglades and the Keys wildlife and Environment. In addition to the unique Florida environment, South Florida also reintroduced Christi to the birds, fish and environment that she grew up with in the Corpus Christi area. Her subjects range from the gentle Manatee to the majestic Florida Panther across the awe-inspiring Sawgrass of the Everglades to the romantic image of a sailboat at moonlight anchorage in the Florida Keys to the coastal birds and fish that inhabit the warm Atlantic and Gulf of Mexico waters to the beautiful Texas lighthouses. Her work is the essence of the warm Sub-tropical waters from Texas to Florida. So much has been lost of that world. Through her paintings, Christi is calling attention to that loss and contributing to its restoration.
Christi likes detailed realism in her art. She and her husband, Angus (Mr. Christi) take thousands of photographs a year for research and reference. Most of these photographs are taken from a 17-foot canoe. The canoe is uniquely suited to photography in the shallow backwaters. It is very quiet, it does not spook the wildlife, it does not draw much water and IT DOES NOT BREAKDOWN!! Christi has worked in a variety of mediums: acrylic, watercolor, pen and ink, pencil and oil. However Christi now uses acrylic, as her medium of choice, on canvas or 100% rag paper. Christi is a self-published print artist. She has both Offset Litho prints and Giclée prints. Her Giclée prints are printed by Christi Mathews - Publishing. The printer is Angus Mathews (Mr. Christi). "Mr. Christi" prints on Arches 90# Cold Press Water Color paper using Lysonic Archival Inks. Christi supervises every step of the print process to ensure that the print is as true to the original painting as possible.
A High School Class Reunion in Corpus Christi during the Summer of 1999 renewed her love affair with the Texas Gulf Coast. Christi's goal was to expand her Art business around the Gulf of Mexico from Florida to Texas, thus spending the winter months in Florida and the summer months in the Corpus area. The Art business did indeed expand and Christi once again discovered that she is a Texan and summer just was not enough. So in October of 2002 Christi and Angus moved to Aransas Pass, Texas where they opened up a 1600 sq. ft. gallery and studio. Christi has her Art Studio in the Gallery. The gallery showcases Christi's work and the work of local and nationally known artist as well as being a social and artistic focal point in Aransas Pass. In addition Angus operates a full service frame shop and prints Christi's Giclée prints in the back section of the Gallery. The gallery has the comfortable feel of a living room.
Christi's work is available from her own gallery "Mathews Gallery & Studios" in Aransas Pass and in galleries from Texas through out the Eastern U.S. and Caribbean.

Christi Mathews
Sargassum Sanctuary
Acrylic
19" x 16"



Christi Mathews
Evening Anglers
Acrylic
25" x 21"


Christi Mathews
Evening Anglers
Acrylic
28" x 24"


Christi Mathews
Keys Blues
Acrylic
25" x 29"


©2012 Redbone.org - All artwork is copyrighted and may not by reproduced without written permission.