Redbone Gallery - Jorge Martinez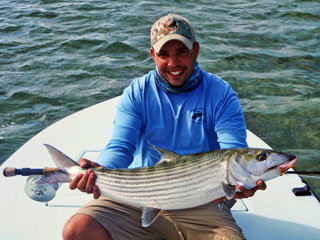 Jorge Martinez
Jorge Martinez, 32, is a South Florida native specializing in gamefish art. Jorge's inspiration comes from his lifelong passion for fishing. A student of the Miami School of Art & Design, Jorge is trained in both modern and classical artistic methods. Jorge's portfolio includes a long history of work done for the Florida Keys inshore tournament circuit as well as several commissioned projects for private collectors and art galleries. In Jorge's underwater works, his objective is to capture the predator-prey moment between the fish and the fly. Always observing the habitat in which he fishes, underwater paintings allow Jorge the chance to recreate the magical places that we're drawn to as anglers.
Jorge's work includes oils, acrylics, pencil, and ink pieces. Every surface is a medium in Jorge's eyes. Most recently, Jorge's original work has been featured as an optional engraving in Nautilus Reels, in Chico Fernandez's "Fly-Fishing for Bonefish" and Andy Mill's "A Passion for Tarpon."
Jorge doesn't just express himself with a brush but also on the fly tying vise. Jorge enjoys fly tying as an outlet for his creativity when he's not on the water or in the studio.
J. Martinez
Permit III
Acrylic
25" x 31"

J. Martinez
Bone and Red
Acrylic
20" x 36"

J. Martinez
The Bite (Tarpon)
Acrylic
44" x 36"

J. Martinez
Bone and Star
Acrylic
25" x 31"

©2012 Redbone.org - All artwork is copyrighted and may not by reproduced without written permission.