Redbone Gallery - Stephen Left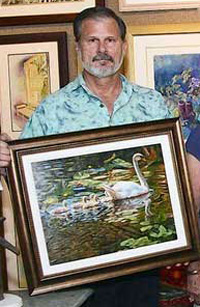 Stephen Left

I began my journey into the world of professional painting in the year 2000 by attending an artist workshop in Montana. While at the workshop I was introduced to an impressionistic form of painting by the late Paco Young. Having been an illustrator, by profession, I painted in a very realistic style and this new style was exciting and magical. To paint dashes and strokes and arrange them in a way that makes a painting come alive from a distance was to me, true art. While attending other workshops through the years I was introduced to painting en plein-air (open air) which helped me to paint more impressionistic and gain a better feel for light, color and atmosphere. I have danced between the worlds of wildlife art and landscaping to expand my knowledge and abilities to continue to bring you visual pleasure.

I am a member of the Society of Animal Artists, a Signature Member of the National Oil and Acrylic Painters Society, and a member of Oil Painters of America . 2008 has been a good year for me with pieces selected into seven national shows; Salon International, OPA Eastern Regional Exhibition, SAA 48th Annual Exhibition (also chosen for the traveling exhibition), NOAPS Best of America Exhibition and NOAPS Signature Artist Exhibition, Kentucky National Wildlife Art Exhibit and SAA Smallworks Show.






Stephen Left
Tropical Blue and Gold
Oil on linen
35" x 29"

Stephen Left
Mangrove Glow
Oil on linen
26" x 22"

Stephen Left
Blue Mangrove
Oil on linen
27" x 33"

Stephen Left
Arrival
Oil on linen
23" x 33"

Stephen Left
Swashbuckler
Acrylic
35" x 29"

©2012 Redbone.org - All artwork is copyrighted and may not by reproduced without written permission.