Redbone Gallery - Kathleen Denis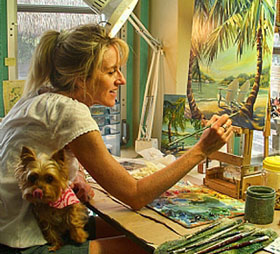 Kathleen Denis
Kathleen Denis, born in Miami, Florida, raised in Ft. Lauderdale, earned a Bachelor of Fine Arts Degree in Graphic Design from the University of Miami in 1981 and continued in this profession for the following ten years. She has since then studied under several noted artists. Since 1994, Kathleen has painted professionally in watercolors, exhibiting in juried outdoor art shows and trade shows. Becoming one of the country's leading "licensed artists", her artwork is published by numerous manufacturers and can be found on hundreds of home decor and gift products in various gift, department and home decor stores, resorts, galleries, and private collections, both nationally and internationally.

Now, using oils, Kathleen finds herself painting in a more "painterly", impressionist style, being recognized and awarded with great acceptance. Finding much of her inspiration from coastal scenes and quaint cottages, the impressions of peace and solitude, a hallmark of her work, invite the viewer into each scene to spend time resting, reading and praying. Kathleen believes that her art is simply an extension of God's hand working through her and often declares, "I like to think that He just lets me hold the brush".

Kathleen currently resides with her husband, Jeff, and her three adorable Yorkies, Barney, Ruby and Callie, in the Florida Keys. Her husband, Jeff, a Pastor of Calvary Chapel Florida Keys, manages Kathleen Denis Designs.


Kathleen Denis
Summer Cottage
Oil
20" x 16"

Kathleen Denis
Pelican Hang Out
Oil on Linen Panel
20" x 16"

Kathleen Denis
Hide Out
Oil
18" x 24"

Kathleen Denis
Key West Blues
Oil
38.5" x 11.75"

©2012 Redbone.org - All artwork is copyrighted and may not by reproduced without written permission.