Redbone Gallery - Julie Joyce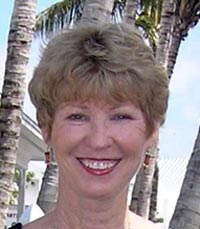 Julie Joyce
My paint brush dances with the joy of discovering another place or scene that I want to capture in my watercolors.
The light and beauty of the Keys fills my soul with great anticipation to hurry and get it all down...before the light changes.

After an exciting 35 year career as an International Flight Attendant…my heart is happy to spend the day capturing the essence of breezy palms fronds, turquoise sea and the tropical flowers of our beautiful islands.

After traveling the world I have tucked my many experiences into a kaleidoscope of treasured memories. There are many blessings in remembering the smells, colors and scenes of Europe, Asia and the Middle East. I feel blessed again that I now have my art work to enhance my life and feel an excitement each time I begin a painting. I enjoy the journey of capturing the tropical essence and as the paints mix and mingle a true love begins. The completed process is when that painting sells to a person who enjoys what I have captured on watercolor paper.

Sharing that experience between the love of the journey and the final separation of the finished piece is an endless pleasure.
Julie Joyce
Secret Orchid
18" x 22"


Julie Joyce
Hibiscus Gathering
13" x 16"


Julie Joyce
Tropical Cottage
20 " x 24"


Julie Joyce
Island Sunset
18" x 22"


Julie Joyce
Summer Clouds
20 " x 20"


Julie Joyce
Summer Flowers
13" x 16"


©2012 Redbone.org - All artwork is copyrighted and may not by reproduced without written permission.