Redbone Gallery - Luther Hall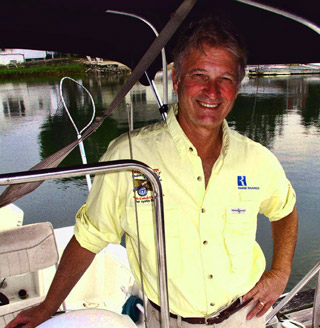 Luther Hall
Luther Kelly Hall is an internationally acclaimed sporting artist. His paintings and illustrations have been featured in sporting publications, galleries and collections throughout the US, Canada and Japan.
Walk 100 yards out of Hall's studio door and you will step into the salt water of the Atlantic Ocean.- the backdrop and the centerpiece of much of Hall's dramatic sporting images. Whether maneuvering his center console among the rocks and rips and seams of his coastal environment in pursuit of Stripers or casting the windswept and wave swept rocky precipices of Atlantic New England' Hall gathers the visual and sensory material for his saltwater fly fishing portrayals.
The fly fishing experience, the drama, the adventure, the comedy and the serenity of those experiences have become the primary frame work of Hall's paintings. Montana's Madison River. Yellowstone National Park's Slough Creek, Pennsylvania's Spruce Creek, Quebec, Canada's Grand Cascapedia River and Atlantic Coastal New England are his most portrayed waters.





©2013 Redbone.org - All artwork is copyrighted and may not by reproduced without written permission.