Redbone Gallery - Don Ray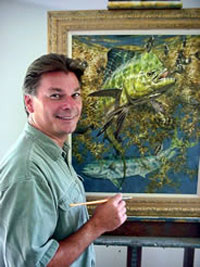 Don Ray
Don Ray's art is enjoyed and collected by fishermen around the world. His oil paintings are the result of a love for fine art and intensive study of the marine environments he portrays. His various methods of research include collecting wild specimens and diving with them in their habitat. Don strives to achieve a balance between artistic expression and realistic interpretations of life and light underwater.
His art has graced the covers of many books, magazines and catalogs such as Field & Stream, Outdoor Life, Marlin, Game Fish (France), Cabela's, Penn Reels, Saltwater Sportsman Magazine "Offshore" and "Inshore" salt water fishing books, and International Game Fish Association World Records Books.
Don is a member of Society of Animal Artists and has received the Society's "Award of Excellence".
Don Ray
Oil
Redfish & Blue Crab


Don Ray
Tarpon Reef
Oil
12" x 16"


Don Ray
Shoreline Tarpon
Oil
16" x 20"

Don Ray
3 Permit
Oil
11" x 14"


Don Ray
Surfin Tarpon
Oil
24" x 36"


Don Ray
Bone 2010
Oil
9" x 12"

©2012 Redbone.org - All artwork is copyrighted and may not by reproduced without written permission.