Redbone Gallery - Judith Conner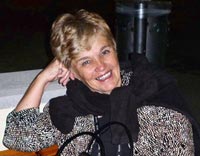 Judith Conner
Judith was introduced to watercolor painting in a most unusual way. She was sitting on the aft deck of the "Biarritz" anchored on the beautiful Bahamian Banks watching the sun drop below the water's edge, and she thought of the great joy one could experience if one were able to capture the vivid colors of a winter sunset or the rising of a early morning sun. She had just one main ingredient needed to paint - water - she was surrounded by it. On the next port of call, she dashed around to purchase the additional supplies required to create watercolors images ...a little pigment, some paper and a few brushes. Her love of capturing tropical flora and fauna, seascapes and quaint buildings began that blessed day she first wet the watercolor brush and put it to paper.
She also paints in oil and creates pen and ink renderings.

Judith has been a member of the Florida Keys Watercolor Society for many years and has participated in their annual judged show. She is also a member of the Shenandoah Valley Watercolor Society and the Beverley Street Studio in Virginia. Judith was one of seven Keys artists exhibiting in the Fandango Watercolor Show at the Marathon Community Theatre in 2008. In 2009, she and three other watercolorists journeyed to Tuscany for a two-week joint painting excursion. A month long show exhibiting those works followed.

Judith holds degrees from Shenandoah University, James Madison University and a Masters Degree from Old Dominion University. At retirement, she and her husband Gene set sail for the Caribbean on their 12 meter Catalac catamaran. They lived aboard for most of the next ten years visiting islands from the Bahamas through the Windwards. They now live in Key Colony Beach for part of the year and Virginia the rest of the year.
Judith Conner
Deep in the Tropics
Watercolor
26" x 32"


Judith Conner
Friends of the Eeverglades
Watercolor
25.5" x 32"


Judith Conner
Caribbean Repairs
Watercolor
22.5" x 29.5"


Judith Conner
Pigeon Key Cottage
Watercolor
19" x 23"


Judith Conner
Boys Buoys
Watercolor
23" x 19"


©2012 Redbone.org - All artwork is copyrighted and may not by reproduced without written permission.