Redbone Gallery - C.D. Clarke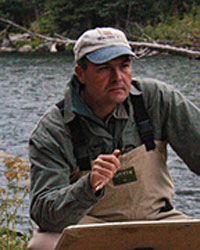 C.D. Clarke
C.D. Clarke was born in Rochester N.Y. and received his BFA in painting from Syracuse University in 1981. C. D. Clarke has traveled extensively, painting in the Caribbean, Scotland, England, Hawaii, The Bahamas, Canada, Alaska, Montana and South America. His work captures the light and most importantly the feeling of sparkling bonefish flats, misty Scottish salmon rivers, raw windy marshes, icy Chilean alps, and warm sunny Argentinean pampas.
C.D. turned his passion for the outdoors into a talent for capturing the light, mood and essence of the outdoors through watercolors and oils. "All of my knowledge of light and how things are recorded and responded to came from years of working outdoors on location. That's the most important thing an artist can do. What an artist learns about light and color in the field is indispensable."
C.D is commissioned by hunters and fisherman who collect sporting art - who want him to capture their favorite locations. He takes four to six major trips each year to paint on location at sporting destinations all over the world. "Many of my paintings are created right on the spot, standing on a rocky beach, in a windy marsh, or on a sparkling flat. I also record the people and equipment on film so that I can add them to my paintings when I am back in the studio. Working in this manner, I end up with an accurate depiction of the sporting scene. The boats, planes, dogs, rods and guns, as well as the anglers and hunters themselves, are all correct. And the light, colors and feel of the landscape are true to life. At other times I will use the sketches I made in the field along with my reference photos as the basis for a painting completed in my studio under more controlled conditions."
C.D. Clarke
Up close and personal
Watercolor
20" x 24"


C.D. Clarke
Schooner at anchor
Watercolor
20" x 24"


C.D. Clarke
Dream Beach
Oil
16" x 19"

C.D. Clarke
I think I saw a tail
Watercolor
20" x 24"


C.D. Clarke
Looking for Backs and Tails
Watercolor
25" x 33"


©2012 Redbone.org - All artwork is copyrighted and may not by reproduced without written permission.