Redbone Gallery - Carol Boye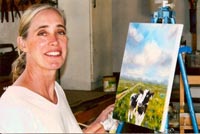 Carol Boye
The emphasis of Carol Boye's work is inspired by the natural beauty of local landscapes she is most familiar with. A long term resident of the eastern Long Island, Ms. Boye finds her inspiration in the land and seascapes surrounding her waterfront homes in Hampton Bays, NY and on Singer Island, in Florida. Expressing her own atmospheric style and fascination with light, Carol's breathtaking oil paintings expertly capture the many moods of these beautiful local areas.

An award winning artist, Ms. Boye graduated Summa Cum Laude with BS in Fine Art from Long Island University in Southampton. In addition she has studied at several institutions including the Art Students League of NYC. Carol continues to refine her style painting on location with fellow artist as a member of the "Barn Artists" in Hobe Sound, Florida. Though best known for her work in oils Carol also enjoys photography and working with pastels.

Ms. Boye passionately supports several local charities. She was the founder of the 2007 Amaryllis Farm Equine Rescue Benefit Art Show and Sale in Watermill, NY. In addition Ms. Boye donates a portion of all her art sales to several of her favorite charities.

Carol is currently represented by several galleries in both Florida and New York. Her work can be found in numerous collections throughout the east coast.


Carol Boye
Sail at half mast
Oil
17" x 19"



Carol Boye
Cloudy wetlands
Oil
19" x 16"


Carol Boye
Coming home
Oil
12" x 15"


Carol Boye
Coming home
Oil
12" x 15"


©2012 Redbone.org - All artwork is copyrighted and may not by reproduced without written permission.