Redbone Gallery - Tim Borski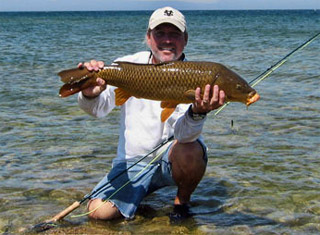 Tim Borski
Borski, 46, had humble beginnings in Stevens Point, Wisconsin, and was basically on his own at age 17. Freezing in unheated cabins through several winters but enjoying ice fishing, friends and the folly of youth, Borski later moved to Miami at age 23 and to the Florida Keys shortly after that.
In the Keys, his propensity for recreating on canvas things he held dear in nature blossomed. Through fortunate circumstances, such as becoming a caretaker on Craig Key, he was able to develop as an artist without much concern for earning a living. A following for his watercolor paintings arose. With tournaments clamoring for his art as prizes for the successful anglers, he was able to sustain himself as an artist and an individual.
Branching into oils and acrylics, Borski constantly innovates, so life in the Borski household is never boring. Most recently, Borski was awarded first place in acrylics in the Purple Isles Art Guild Art Show for a typical Borski painting, entitled "Mr. Snook." It is a detailed, 30-by-40-inch painting of a fish on a bright orange-red background.
Tim, also, is an entertaining writer. Currently, Tim is writing an article for a fly fishing magazine about a recent jaunt to Ixtapa, Mexico with the person who showed him how to tie his first fly, Frank Oblak of Miami. Tim, also, writes fly tying articles for the quarterly Redbone Journal.
Painting has been going exceedingly well with art as varied as the Mongolian trout, Taimen for World Trout and the folks at AEG who produce the "Trout bum diaries," from Edgy blue marlin pieces for tournaments, to an array of birds in art which is one of his most in-demand subjects.
Fishing around the house (Florida Bay) was really exceptional this past year so other than the occasional business jaunt, Tim was happy to be at the rod and easel at home.
Tim Borski
Duck pond Red
Acrylic
30" x 48"

Tim Borski
Snook on Gray
Acrylic
24" x 56"

Tim Borski
Sunset Bone
Acrylic
24" x 36"

Tim Borski
Slam on board Tarpon
Acrylic
11" x 36"

Tim Borski
Slam on board Bone
Acrylic
11" x 36"

Tim Borski
Slam on board Permit
Acrylic
11" x 30"



©2012 Redbone.org - All artwork is copyrighted and may not by reproduced without written permission.