James Harris
Genesis of a painting
James Harris draws inspiration from ordinary experiences of everyday life: double rainbow skies, salt air and heat felt fishing the flats, watching movements of birds and animal, studying the play of sunlight and shadows.

The process of transforming a concept into a completed work is four-fold: imagination, research, rough sketches and painting. His choice of painting surface is primarily Crescent watercolor board. He has, however, worked on masonite and stretched canvas.

James constructs scenes which combine life experiences with a blend of firm imagination and photo research. He sketches on location to capture moods and color, relying on his photography to bring compositional details accurately together. Larger paintings are completed in the studio, because of the amount of detail and extensive color mixing required.

Asked about location sketching he remarked, "I find my eyes wandering to the birds overhead, or to the bee attracted to the yellow I just laid down. I absorb the sounds and smells enveloping me. That is the experience I want people to feel when viewing my work. While traveling, I gain first-hand knowledge of potential subject matter. Taking photographs and drawing sketches helps to capture the essence of the experience."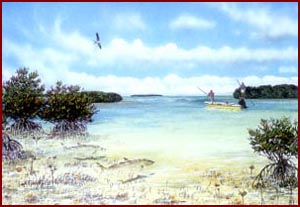 "Polled Into Position"
Limited edition signed and numbered lithograph
Image size 19"X13" - $100.00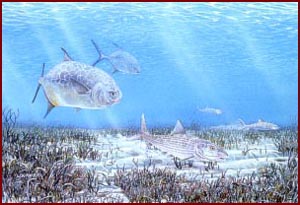 "Prowling The Flats"
Limited edition signed and numbered lithograph
Image size 19"X13" - $100.00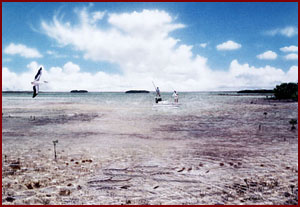 "NERVOUS WATER" BONEFISH
The official Rolex / IGFA
Inshore Championship limited edition print
Limited edition signed/numbered 500
Image size 19"X13" - $125.00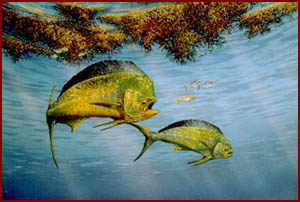 "WEED WARRIORS" DOLPHINFISH
Limited edition signed/numbered 500
Image size 19"X13" - $125.00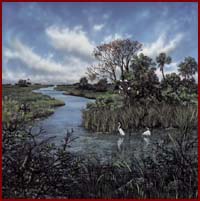 "HIDDEN GATOR"
Giclee limited edition 100
Image size 30" x 30" - $595.00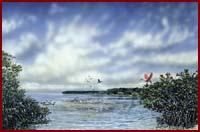 "SANIBEL SPLENDOR"
Limited edition 95
Image size 30" x 20" - $125.00