Roger Cruwys
Roger Cruwys' ability to create lifelike images of wildlifeearns him the reputation of becoming a giant in the world of wildlife art.Although a successful landscape architect/designer, Roger walked away fromhis chosen profession in 1978 and turned his attention toward angling andsporting art as a career. An avid sportsman, presently residing in Bozeman,Montana, Roger is equally at home on a stream, pond, covert or marsh, andconstantly continues his field study throughout the country and in the tropics.

An award winning artist, Roger's work can be found in someof the finest galleries, and in many national sporting publications suchas Fly Fisherman, Field and Stream and Gray's Sporting Journal.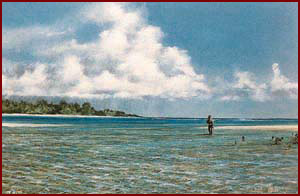 BONE STALKER
Limited edition - Signed/numbered 450 -
Image size 16"x 24" - $125.00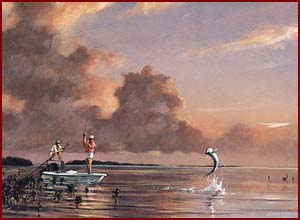 GRAND SLAM
Original acrylic - Image size 15-1/2' x 13" - $950.00

JUST IN TIME
Limited edition - Signed/numbered 100 -
9" tall $1,200.00 - Individual fish also available:
PERMIT, TARPON, BONEFISH
Call for sizes and pricing info.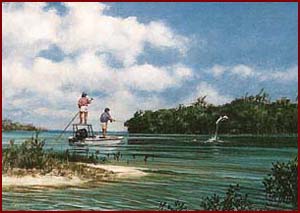 LAID UP IN THE MANGROVES
Original acrylic - Image size 15-1/2" x 13" - $895.00