Redbone Gallery - Stacie Krupa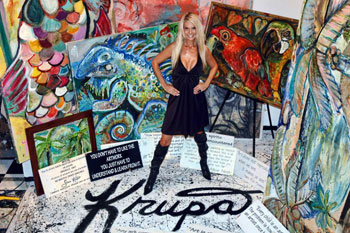 Stacie Krupa
Stacie Lynn Krupa (M.F.A.) is a contemporary, expressionistic Master level, Mid-Career Professional, working artist and business proprietor with a public working studio and her own galleries in Islamorada, a small island community about 90 miles south of Miami in the Florida Keys. Her work has been described by critics as, "bold, powerful, in-your- face". She has trademark, intense gestures that create large images, monochromatic schemes and raw, edgy canvas creations that command attention and warrant repeated viewing. Krupa can push the observer to contemplate the struggles life often presents while maintaining a whimsical, fun-filled play quality to the works, continuously seeing her subject matter in new and interesting ways. Krupa was born in Johnstown, Pennsylvania on February 19, 1967. Her parents are John and Helen Krupa.
She grew up as an only child. She spent much of her childhood interacting with animals and sea life. She considered them her pseudo siblings. They were her first influences and have been a primary subject matter throughout her career. She began her bold approach to art early. When she was 10, she painted large images on pillowcases and sold them to family, friends and neighbors. She placed third in a nationwide art content based on the Spielberg movie "Close Encounters of the Third Kind." Krupa began formal study of art at twelve years of age when her father cajoled a painting professor in Orlando where they were living to let her try "hanging out and participating" in the adult drawing classes at the Orlando Museum of Art. Her work and her intense focus earned her the right to remain in the class.
Stacie Krupa
Palm Tree Persnickety
18" x 24"


Stacie Krupa
Turtle Tippeys Toes
24" x 20"


Stacie Krupa
Crab Mangrove
20" x 20"


Stacie Krupa
Sea Turtle Aqua Marine



©2012 Redbone.org - All artwork is copyrighted and may not by reproduced without written permission.