Redbone Gallery - Brian Kirkpatrick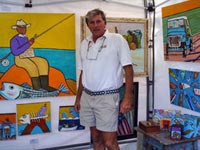 Brian Kirkpatrick
I was born in 1953, the youngest of three children, in the rural but art rich area of Mystic, Connecticut. As a boy I spent most of my time outdoors fishing, hiking and horseback riding.

My neighbor was an artist, a student of Robert Brackman. We were told not to look into her studio window, but one day I did. The walls were covered with many paintings of nude men and women. That was my first introduction to the art world.

At the age of fourteen I went to work in my family's painting business with my grandfather. He was a master at mixing paint and I quickly acquired this talent. There were no color charts; you had to mix the color to a wallpaper or fabric or maybe a sweater. We used cans of colorant carried in a wooden box. It could take hours to match a color.

It wasn't until the spring of 2003 while on a trip to Italy that my world came full circle. The city of Venice would change my life. It was like a dream; I had never seen so many colors in one place. The next day I went into an art store and bought watercolors, brushes and paper. I have never stopped painting. I feel that my love of colors and painting connected through a natural progression of experience.

Today Marco Island, Naples and the Everglades are my winter studio. Spring, summer and fall are spent painting scenes of Martha's Vineyard and Mystic Ct.


Brian Kirkpatrick
Antique Lures
30" x 24"



Brian Kirkpatrick
Tarpon Flies
40" x 30"


Brian Kirkpatrick
Gary's Special
24" x 18"


Brian Kirkpatrick
Heads and Tails
30" x 40"



Brian Kirkpatrick
Me Permit
24" x 21"


Brian Kirkpatrick
Me Redfish
12" x 12"



Brian Kirkpatrick
Me Bonefish
12" x 12"



Brian Kirkpatrick
Stacked
39" x 12"



©2012 Redbone.org - All artwork is copyrighted and may not by reproduced without written permission.