Redbone Gallery - Andrea F. Huffman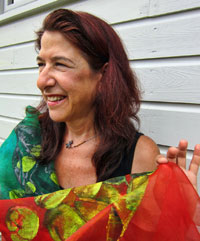 Andrea Huffman
After thirty one years as a visual arts educator in Broward County Public Schools I retired from teaching to pursue my work as a full time artist. Originally from New York City, I attended the High School of Art and Design. I received a Bachelor's degree in Art Education from Florida Atlantic University in 1980 and a Master's Degree in Art Education at Florida International University in 1994. I have had the opportunity to participate in numerous juried and group shows throughout Florida, as well as two solo shows in Broward County. In 2011 I was one of five Florida Arts Educators selected for the first State Teachers Artist in Residence (STAR) program at the Hermitage Artist Retreat in Sarasota, where my work is also in their permanent collection.

I am currently a member of Florida Craftsmen, Studio Art Quilters Association and in 2010 I became a juried member of "2 + 3; The Artist's Organization" a group in Broward County that was originally formed by Duane Hansen in the 1980's. Through these organizations I have participated in a wide range group exhibits throughout South Florida and at the Florida Craftsmen Gallery in St. Petersburg.


Artist Statement

"I am intrigued with the small nuances in nature such as cycles of life, rituals and interaction of various species. I create works of art on fabric to connect my viewers to my personal experiences and observations of the natural world. Fiber offers tactile and dimensional qualities, while essentially maintaining a two-dimensional surface. My work draws upon both fine art and craft traditions, as well as contemporary innovations. I integrate various media, including drawing, painting, printmaking and digital imagery, with machine and hand stitching to embellish each image in a way that will emphasize and convey to the viewer, my initial fascination with my subjects."
Andrea Huffman
Memories of Salt Air



Andrea Huffman
Radiant Gallinula



Andrea Huffman
Finding Home


Andrea Huffman
Discovered Passions


©2012 Redbone.org - All artwork is copyrighted and may not by reproduced without written permission.